Written by Sarah Donofrio and Dr. Hannah Shorrock
Edited by Celeste Suart
This morning ICAR speakers will discuss the processes in the brain and body that occur in ataxia. Talks will also include potential biomarkers for ataxia and neuroimaging techniques used to understand the disease.
The morning session on November 2nd will focus on disease mechanisms. Topics will include the changes in genes, proteins, cell structures, and neuron firing that contribute to ataxia. The morning will begin with a talk about the progress made in studying autoimmune cerebellar ataxias over the past year, such as the discovery of new biomarkers and an increased understanding of how these ataxias develop. Next, conference attendees will hear about new findings in understanding the disease mechanisms of ataxia. Speakers will talk about:
Abnormal neuronal activity in mouse models of movement disorders
The involvement of glia in a mouse model of spinocerebellar ataxia (SCA) 1
A potential therapeutic avenue for Fragile X-associated tremor ataxia syndrome
The role of a certain type of protein in different SCAs
By understanding the dysregulation of cellular and molecular processes that occur during ataxia, researchers will be better able to develop therapies that target aspects of these diseases.
The rest of the morning will be split into two breakout sessions, covering disease mechanisms and biomarkers. In the disease mechanisms session, researchers will discuss how genetic mutations alter protein function, which can influence disease severity in patients with ataxia. The session will also cover studies conducted in animal models of ataxia. Using animal models, researchers can learn more about how genes and proteins cause balance problems and changes in the brain. Finally, speakers will discuss changes in the size and shape, firing properties, and inner workings of neurons in ataxia. The results of these studies may help clinicians predict disease severity and lead to the development of treatments for ataxia.
In a parallel session on biomarkers, the attendees will hear about research focusing on the identification of biomarkers in blood and cerebrospinal fluid (CSF), as well as imaging and digital movement biomarkers. Many of these studies are from multinational research groups. Several of the digital biomarker studies are using artificial intelligence and machine learning to understand the vast quantities of data generated with these approaches. Core themes in this session include:
The use of biomarkers to differentiate between preataxic and healthy individuals
Determining the appropriate time frames for longitudinal follow-up visits
The size of patient cohorts that would be needed to detect differences in the biomarkers in future clinical trials
Alongside developing sensitive biomarkers that can be used to monitor ataxia, identifying the number of patients and time frames required to detect changes in biomarkers is an essential step for improving clinical trial design for success in ataxias.
Read Other SCAsource Articles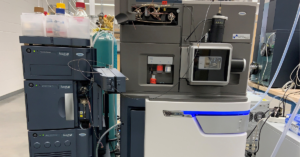 Mass spectrometry, also known as" mass spec", is a very useful analytical tool that is often used in science to determine the masses of different compounds in a sample. Mass Read More…
Written by Sophia LeungEdited by Dr Hannah K Shorrock In SCA5, the N-terminus of β‑spectrin induces toxicity and therefore a new target for therapeutics to treat SCA5. The research group Read More…
Speech not only consists of the words we say, but how we say them. That "how" is what is called prosody: the pitch, loudness, and timing of speech. The term Read More…